More SBDC Information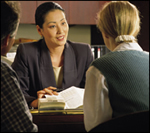 Mission
To help businesses become established, grow, survive and succeed by providing professional management advising and training, resulting in a positive economic impact for north Harris and Montgomery Counties.
History
The Small Business Development Center opened at the Lone Star College System, then known as the North Harris Montgomery Community College District, in November 1985. The center was the first opened by the University of Houston in the Gulf Coast region. As the first community college in the state of Texas to become an SBDC service center, Lone Star College System became a testing ground for the SBDC Network that now exists throughout the Gulf Coast region, with centers providing advising and training services in 32 southeast Texas counties.
SBDCs in Texas served 63,001 businesses in FY 2016 with 19,468 consulting cases and 2,167 trainings, seminars and courses reaching 41,959 participants.
The Economic Impact Results for FY 2016 included 14,692 jobs created and 9,934 jobs retained. New financing and Investments totaled $576 million, new sales reached $1.3 Billion, and new tax revenue generated $152 million.
SBDC long-term consulting assistance is highly valuable from a public policy perspective because it returns tax revenues to state and federal governments as well as value and capital to its clients that are greater than the direct cost of providing the service. For every $1.00 invested in the Texas SBDCs, a return of $7.92 is generated.
SBDC Clients vs. the Average Texas Business - Return on investment equals increased jobs, sales, financing and tax revenues. Compared to the sales growth of the average Texas business in 2016 of -1.4%, an SBDC client increased 20.9%. Employment growth for the average Texas Business was 2.4% while an SBDC client was 20.7%. New taxes generated were $151,957,534 with $38,462,694 being federal taxes and $113,494,840 in state taxes.
SBDCs are in your communities.
With over a thousand locations in the SBDC network, SBDCs cover rural, urban, and suburban communities nationwide.
▲ A new job is created in the U.S. by an SBDC in-depth client every 9 minutes.
▲ A new business is opened by an SBDC in-depth client every 45 minutes.
▲ $100,000 in new sales are generated by SBDC in-depth clients every 17 minutes.
▲ $100,000 in financing is obtained by SBDC in-depth clients every 18 minutes.
▲ Every federal dollar in an SBDC creates $1.61 in federal revenue and $1.54 in state revenue.
America's Small Business Development Center (ASBDC) Network
provides management and technical assistance to more than one million small business owners and aspiring entrepreneurs each year. Small business owners and aspiring entrepreneurs can go to their local SBDCs for
free, face-to-face business advising and low-cost training
on writing business plans, accessing capital, marketing, regulatory compliance, international trade and more. The SBDCs are a
partnership
that includes
Congress, SBA, the private sector,
and the
colleges, universities and state governments
that manage SBDCs across the nation.